The 2021 Women in Leadership panel discussion honors the legacy of Sally Ride, the first American woman in space, and also celebrates the 20th anniversary of Sally Ride Science. This year's virtual panel brings together trailblazers who have shattered barriers and paved the way for women across the globe in a recorded session premiering on May 20.
Tam O'Shaughnessy, Ride's life partner and cofounder of Sally Ride Science, conceived of the first Women in Leadership event in 2018 to celebrate the dedication of a U.S. Postal Service Forever stamp in Ride's honor. That lively and thought-provoking conversation gave rise to an annual event aimed at inspiring girls and women to embrace leadership roles.
Through a candid and timely discussion, the distinguished panel will share their personal stories and vision on how women can help lead our nation to a better future.
Tune in for the video premiere of the panel discussion Thursday, May 20, 2021
Download our Companion Guide to learn more about Sally Ride Science and about the Women in Leadership conversation. The guide also features activities that allow students to explore the themes of Women in Leadership.
---
Get Notified Enter your email address below:
*Video will be available for viewing at 12:00 am PST on Thursday, May 20, 2021
---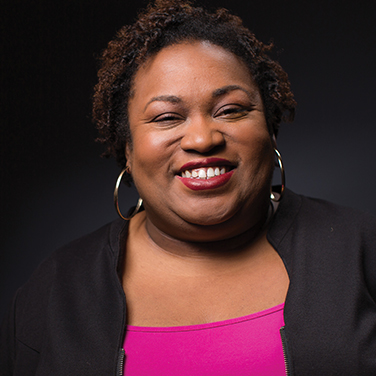 PANELIST
Brittney Cooper
Feminist Scholar and Author
PANELIST
Kathy Sullivan
Trailblazing Astronaut and Scientist
PANELIST
Maria Hinojosa
Award-Winning News Anchor and Reporter
MODERATOR
Lynn Sherr
Author and Award-Winning Journalist
WOMEN IN LEADERSHIP 2019
A conversation with Sylvia Acevedo, Chief Executive Officer, Girls Scouts of the USA; Chelsea Clinton, vice chair, the Clinton Foundation; and Jedidah Isler, assistant professor of physics and Astronomy, Dartmouth College. Moderated by Lynn Sherr, award-winning journalist and author.
WOMEN IN LEADERSHIP 2018
A conversation with Billie Jean King, tennis legend and champion of social change; Ellen Ochoa, first Hispanic woman in space and former director of NASA's Johnson Space Center; and Condoleezza Rice, political scientist and first African American woman to serve as U.S. secretary of state. Moderated by Lynn Sherr, award-winning journalist and author.