—— 40th Anniversary ——
Sally Ride's
Historic Spaceflight
June 18, 2023, marks the 40th anniversary of the day Sally Ride blasted off aboard shuttle Challenger to become America's first woman in space. By breaking NASA's gender barrier – and later championing equity in science education – Ride inspired girls and young people from diverse backgrounds to blaze trails in STEM fields that previously had seemed off-limits to them.
Shattering
NASA's Glass Ceiling
After the death of Sally Ride, America's first woman in space, in 2012, a popular editorial cartoon showed an adolescent girl looking at the news on her computer and asking her mom, "Wait, are you saying there was a time when there weren't any women astronauts?"
Young people may take for granted that women can aspire to just about any career, including space explorer. But for girls growing up before Ride's historic flight 40 years ago, becoming an astronaut was not an option.
Soviet cosmonaut Valentina Tereshkova had become the first woman in space in 1963, 20 years earlier. But the U.S. space program had drawn its astronaut corps almost exclusively from the ranks of male military pilots.
All that changed on June 18, 1983, when Ride launched from Kennedy Space Center in Florida aboard shuttle Challenger. Her flight captured the nation's imagination and inspired countless girls and women to pursue their dreams. Her breakthrough also heralded a gradual broadening of the astronaut ranks to include women and men of all backgrounds.
New Faces
Ride was finishing her PhD in physics in 1977 when she saw an article in the Stanford student newspaper saying that NASA was hiring new astronauts. The space agency was looking for scientists and engineers to serve as mission specialists on the space shuttle, and for the first time, women could apply. Ride decided on the spot that she wanted to fly in space, and she dashed off a letter asking for an application.
NASA received more than 8,000 astronaut applications. After months of waiting, Ride got the news that she had been selected, along with five other women, as part of a group of 35 new astronaut trainees. The recruits called themselves the Thirty-Five New Guys, and they formed strong bonds of friendship as they went through their training, which included parachute jumping, water survival, weightlessness, radio communications and navigation. Ride also helped develop a robotic arm that space shuttles would use to launch and retrieve satellites.
Ride's intellect, athletic ability, sense of teamwork and coolness under pressure allowed her to excel during astronaut training. In 1981, she was chosen as the first female CAPCOM (capsule communicator), the voice of Mission Control talking to astronauts in space.
Bound For Space
On April 19, 1982, NASA's flight crew director summoned Ride into his office and told her she had been selected as the first women assigned to a shuttle crew. She would serve as a mission specialist for STS-7 aboard Challenger.
Training for her first mission lasted more than a year. Ride and her four male crewmates – Commander Robert Crippen, pilot Frederick Hauck, and fellow mission specialists John Fabian and Norman Thagard – worked through endless simulations to learn how to perform their tasks and cope with potential problems.
When she blasted off, Ride became not just the first American woman, but also, at 32, the youngest American in space. During the six days of mission STS-7, she deployed and retrieved a satellite with the robotic arm. The crew also performed a variety of scientific experiments. The mission lasted 147 hours before Challenger landed at Edwards Air Force Base, California, on June 24.
Ride performed her duties with calm competence, demonstrating to the world below that women belonged on space missions. She later said of the experience, "The thing that I'll remember most about the flight is that it was fun. In fact, I'm sure it was the most fun I'll ever have in my life."
Instant Celebrity
In the runup to her historic flight, Sally Ride suddenly found herself the focus of a media frenzy. She appeared on the covers of Newsweek, People and Ms. Magazine. Reporters peppered her with sexist questions, but she managed to respond with humor and grace. During one news conference she was asked, "Do you weep when things go wrong on the job?" Ride laughed and gestured to her crewmate Rick Hauck, replying, "Why don't people ask Rick those questions?"
Changing Faces of the Astronaut Corps
NASA's first group of astronauts – the Mercury 7, chosen in 1959 – was made up of white male military pilots. The idea was that astronauts needed to be macho men with "the Right Stuff," and no women need apply. For almost two decades, the astronaut corps remained completely male and white and overwhelmingly military.
With the advent of the space shuttle program, NASA needed scientists to go into space. The space agency also made a conscious decision to recruit women and people of color. The astronaut class of 1978 included scientists and engineers as well as military pilots. Among the recruits were Sally Ride and five other women, as well as Black and Asian American men.
This progress toward diversity continues at NASA. The most recent astronaut class, announced in 2021, boasts a robust mix of women and men from diverse backgrounds.
Trailblazers in Space
1961
1961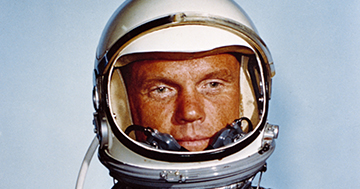 1962
1963
1969
1983
1983
1984
1984
1992
1993
1999
2000
2001
2007
2019
1961
April 12, 1961: First human in space, Yuri Gagarin (USSR), Vostok 1
1961
May 5, 1961: First American in space, Alan Shepard (NASA), Mercury Freedom 7
1962
Feb. 20, 1962: First American to orbit Earth, John Glenn (NASA), Mercury Friendship 7
1963
June 16, 1963: First woman in space, Valentina Tereshkova (USSR), Vostok 6
1969
July 20, 1969: First human to walk on the Moon, Neil Armstrong (NASA), Apollo 11
1983
June 18, 1983: First American woman in space, Sally Ride (NASA), shuttle Challenger
1983
Aug. 30, 1983: First African American person in space, Guion "Guy" Bluford (NASA), shuttle Challenger
1984
July 25, 1984: First spacewalk by a woman: Svetlana Savitskaya (USSR), Salyut 7
1984
Oct 11, 1984: First spacewalk by an American woman, Kathy Sullivan
1992
Sept. 12, 1992: First African American woman in space, Mae Jemison (NASA), shuttle Endeavor
1993
April 8, 1993: First Hispanic woman in space, Ellen Ochoa (NASA), shuttle Discovery
1999
July 23, 1999: First woman to command a space mission, Eileen Collins, shuttle Columbia
2000
Nov. 2, 2000: First crew on International Space Station, Bill Shepherd (NASA), and Yuri Gidzenko and Sergei Krikalev (Russia)
2001
March 2001: First female crew member of International Space Station, Susan Helms (NASA)
2007
Oct. 10, 2007: First woman to command International Space Station, Peggy Whitson (NASA)
2019
Oct. 18, 2019: First all-female spacewalk, Jessica Meir and Christina Koch (NASA)
In Her Own Words
Here's how Sally Ride described her first spaceflight
Before the Launch
As we drove toward the launchpad, the shuttle looked quiet and peaceful. But when we got there and stepped out of the van, I could hear it hissing and crackling as though it were alive.
Liftoff
Once the rockets lit, the shuttle leaped upward in a cloud of steam and a trail of fire. Inside the ride was rough and loud. My head rattled around inside my helmet; my body bounced against my seat. I could barely hear the voices in my headset above the roar of the rockets.
Entering Orbit
It felt like my arms were made of lead. The notebook on my lap seemed to weigh a ton. Then suddenly, the shuttle engines stopped. The lead in my arms vanished. My arms were lighter than air, and my notebook floated up in front of my face. I was in space.
Back to Earth
I started to feel heavier and heavier as gravity slowly pulled me into my seat. It was hard to lift my hand or hold my head up. Outside the windows, the shuttle was engulfed in a fiery orange glow as we blazed through the air.
Inspiring
the Next Generation
After Sally Ride returned to Earth from her historic flight, NASA sent her traveling around the country for a series of speaking engagements. Sometimes her audiences included young girls. Ride didn't always enjoy being in the spotlight – she was a private person. But she loved talking to young people, and she soon realized that seeing a woman in the role of an astronaut had a huge impact on girls.
Ride knew all too well that women were underrepresented in science careers. After she retired from NASA, she and her life partner, Tam O'Shaughnessy, became concerned about research showing that girls tend to lose interest in science in middle school and high school. This happens because of stereotypes about what girls are good at and who can be a scientist.
In 2001, Ride decided to use her influence as a role model to encourage girls and students from diverse backgrounds to study science and to consider careers in STEM (science, technology, engineering and math). She and O'Shaughnessy joined with three friends to found Sally Ride Science. They held science festivals across the country, published dozens of books and trained hundreds of teachers. Their efforts helped jumpstart the national conversation about the need to promote diversity in STEM fields. Today Sally Ride Science continues to offer innovative STEM programs as part of UC San Diego's Division of Extended Studies.
Following In Sally Ride's Footsteps
As America's first woman in space, Sally Ride became an inspiration to girls and women aiming for careers in science and space exploration. Many of today's female astronauts and scientists cite her as an inspiration.
After Ride's death in 2012, a group of female astronauts gathered for the dedication of a tree in her memory in Astronaut Memorial Grove at NASA's Johnson Space Center. Ellen Ochoa, the first Hispanic woman in space, later described the scene.
"As we went around the table, just about every single woman in the astronaut office, current and former, had been personally affected by Sally. As much in demand as she was, she always made time to meet with young women who dreamed of becoming astronauts."
Planetary scientist Laurie Leshin became the first female director of NASA's Jet Propulsion Laboratory in 2022. In a recent interview she talked about her career inspirations.
"The late Sally Ride is one of my heroines. I met her while I was a young professor at Arizona State University, and she became a friend and mentor. I was impressed by how she used her role, as the first U.S. woman to fly into space, to help advance other young scientists. I hope to do something similar in my new job."
When Catherine "Cady" Coleman was a student at MIT, she heard a speech by Ride, and she remembers thinking, "Wow, she seems to be somebody just like me. Maybe I could be that, too." Coleman earned her PhD in polymer science and engineering and became an Air Force officer before joining the astronaut corps and completing three space missions.
Summer STEAM Inspiration
Sally Ride Science Academy, June 26–July 28, offers week-long summer workshops on dozens of topics ranging from coding to robotics and from marine biology to space science. Both in-class and online workshops are available for students entering grades 3-12 and for adults.
---
Photo Credits
All Photos by NASA
Yuri Gagarin and Valentina Tereshkova, credit: European Space Agency (ESA)
Inspiring the Next Generation, credit: Sally Ride Science
Laurie Leshin, credit: NASA Jet Propulsion Laboratory